By Dr Deth
The Leftovers is a weird name for a TV show. No, it's not a sitcom with slapstick musings over leftover food interspersed with a laugh track. However, to those who have been following it, the nomenclature would make perfect sense.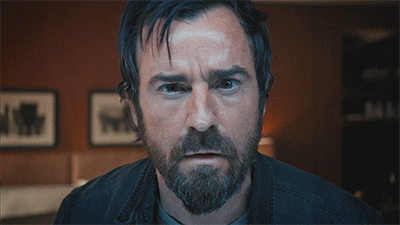 The series cuts right to the chase and shrouds the plot in mystery ensuring you stay hooked. Prelude to the series entertains a rather disturbing revelation – 2% of the world's population vanishes into thin air without warning or any signs of the extraordinary.
The first season unravels personal narratives and characters, largely ignoring to answer the what-the-f#@ks-and-whys of the first episode. Justin Theroux's portrayal of Kevin Garvey is right on the money. He shows commendable acting range to amplify the magnitude and significance of certain pivotal and poignant scenes. There are no grand action pyrotechnics involved here, although some mass hysteria scenes do display mid-level mayhem at best.
Tony nominated Carrie Coon plays Nora Durst, a deeply scarred soul who is unable to recuperate in the aftermath of the departure that has claimed her entire family. On the other hand, Scott Glenn fits like a glove as the maniacal Kevin Garvey Sr.
In his own words, "I get to play a part that goes from such raw emotions to laugh-out-loud just like that". Which also happens to be a great summary for the entire show.
Despite the depressive theme and constant annihilistic air looming over it, the viewer is not left feeling deprived by the monotone. The characters remain imperfect (even the likelihood of immortality doesn't do much good), vulnerable and often as perplexed as the average viewer.
A special mention should be reserved for the fantastic musical score for the series, composed by Berlin based Max Richter.
With a background in classical as well as contemporary music, his DNA is imprinted all over the show, elevating each season. A fine example of this comes to life whenever an episode is drawing to its end and the haunting theme kicks in (aptly named "The Departure suite"). From country jazz ramblings of Billie Holiday to an orchestrated instrumental version of Metallica's "Wherever I may roam", the eclectic soundtrack is definitely a highlight.
While the final and crucial episode (The Book of Nora) aired on June 4th, 2017, expectations remained high. Afterall, it was time for closure and for all of us addicts to move on to the next best series. Sadly, a lot remains unanswered as HBO rolls the shutters on the show. TV endings are often hit and miss, and it all comes down to individual gratifications.
I, for one, was left painfully distressed by the departure of this gem of a show. The poster on my wall is testimony to the impact it had on me. Part riveting, part brilliant, part meh, part wtf… The Leftovers satiated my appetite for hypothetical probabilities.
Care for some?
OK Rating: 8.5/10
(Lead image courtesy: Official FB page)